Benefits of Cat Scratchers and Cat Furniture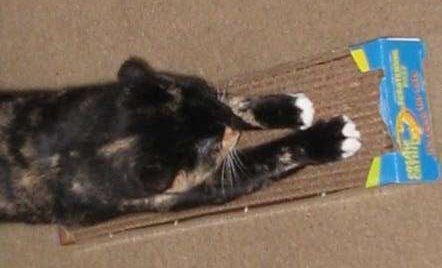 Many people are reluctant to get a cat because of the damage they can do to the house and furniture with their claws. Declawing a cat is less than a satisfactory option, but cats are smart animals and can be taught to use their own scratch posts and furniture rather than yours.
Types of Cat Scratchers
There are many different types of cat scratchers available and you are certain to find one that fits your budget and needs. At Swell Pets you'll find a good selection of quality cat scratchers and cat furniture as well as other cat-related items.
Cardboard Cat Scratchers
The cheapest and simplest cat scratchers are the cardboard kind. These usually come with some catnip to attract your cat to them. This is the cat scratcher shown in the photo at the top of the page. Cats like the cardboard cat scratchers a lot, but they scratchers aren't very durable and so you will need to replace them often. You'll also have little bits of carboard on the floor surrounding the scratcher. Other than the durability issue, these work well and will usually save your furniture.
Rope Scratch Posts
The most durable cat scratchers consists of a base and post wrapped in rope. These are durable, but I've found that some cats won't use them. I think it is because they are not quite heavy enough. Sometimes they tend to fall over when the cat tries to use them. Sometimes they can be a little too short for your cat to use comfortably. Getting a rope covered scratch posts that lays flat on the floor is probably easier for your cat to use than the upright kind.
Cat Furniture and Play Centers
The best cat scratchers are the cat play centers or cat trees as they are often called. These not only serve as scratching devices for your cat, but also as exercise and play items too. Most everyone knows that cats enjoy climbing trees and getting your cat a cat tree will enable him to get some additional exercise. In addition, many cats like to be up higher than the ground. A cat tree will enable your cat to sit high up in the room. Also, these will accommodate more than one cat at a time. Cats really do enjoy climbing on these and indoor cats especially can use the extra exercise. Plus they make wonderful scratching posts too!
The best place to put your cat tree is near a window so your cat can sit on it and look out the window. Position the cat tree so it doesn't wobble. If it isn't sturdy your cat won't use it. If you do have some lovely trees in your garden, then you could help your cat by pruning it using a pole-pruner or with pruning shears. Then your cat may be more tempted to start climbing your trees instead of ruining your furniture!
Save Your Furniture
Do yourself and your cat a favor by getting him or her a cat scratcher - your cat will love it while simultaneosly saving your furniture!